Why Michael The Facilitator Is One Of The Best Motivational Speakers To Boost Your Organization From The Inside Out
Why Michael The Facilitator Is One Of The Best Motivational Speakers To Boost Your Organization From The Inside Out
Effective business leadership is imperative to not just having a company that survives, but a company that everyone thrives in ...where everyone feels at home, engaged, all working toward the same business goals as well as individual goals.
Seriously, just imagine creating an environment for your team where everyone feels encouraged to voice their best ideas, thoughts, opinions, and concerns, all working effectively towards achieving shared business goals.
Whether that goal is to grow revenue, improve service, increase innovation, better performance, or whatever the specific goals are - it's imperative to create an environment that aligns with achieving them, all while making sure each team member excels, grows, and contributes. Part of creating this type of environment means finding ways to focus the team, and keep them connected, engaged and motivated.
So how do you achieve an environment where everyone stays engaged, motivated and focused on achieving the business's goals while striving for personal excellence?
Great question!
One of the best ways to achieve this is by having engaging events which inspire your team to reach for higher levels of performance, events in which your team can connect, have fun, and get motivated/re-motivated. By hiring a top leadership speaker, motivational speaker, corporate speaker, whatever you want to call it, you can use the power of the speaker's engaging motivational skills to empower and motivate the team.
Aside from the empowering benefits doing this will have, this will also show your team that you really don't only care about reaching the top level business goals but also care about each of them as individuals, and want them to grow, prosper, and reach all of their goals in business (and in life) - which actually helps all the goals get met much much faster...
And this is exactly what Michael Wilkinson has the experience, skills and knowledge to do, especially if you're looking for a business keynote speaker that really goes the extra mile to create an engaging experience that builds skills while connecting, impacting and empowering each person in a positive way that will stick with them for a long time to come.
Some speakers motivate for the moment and once the event is over, the motivation expires. But with Michael Wilkinson, your audience is empowered by walking away with a set of practical strategies, tools and techniques that they can put in to play the next day to drive business results. So if you are indeed looking for an exceptional business motivational speaker for your meeting, event or conference…
Here are 5 key reasons why Michael The Facilitator is your absolute top choice to having a conference keynote speaker that genuinely cares about ensuring your team has an empowering, motivating and just an all around great experience:
1. The Impact Goes Far Beyond the Day
While other speakers can make you feel good for a few hours or perhaps a day, Michael's presentations typically deliver long-term impact. Why? He doesn't stop at mere theory. He delivers practical strategies that solve real-world problems faced by businesses every day. The result: audience members walk away knowing what to do, how to do, and are committed to action because they understand why it is important.
2. Dynamic, Energetic and Inspiring
The words most frequently associated with Michael and his presentation style are dynamic, energetic, and inspiring. Starting with his rousing "Good Morning," your participants will be completely engaged by his energetic and uplifting style combined with his many powerful strategic insights. His gifted approach for facilitating large groups create a highly engaging, highly interactive, and highly impactful presentation. Your audience will appreciate how "the time just flew by" as they were so engaged the entire time!
3. Michael's Wealth Of Experience Across The Globe Makes Him One Of The Absolute Best Business Speakers To Create An Empowering Experience For Everyone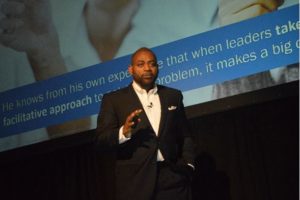 Michael draws from his rich experiences as an international master facilitator to provide perspective on how your business can gain and maintain an edge over the ever increasing competition.
Whether providing strategic planning for a business, addressing critical issues in an organization, or focusing on team building and innovation, Michael excels in bringing down barriers, integrating ideas and helping businesses and organizations forge a more productive and united direction with his leadership speaking style to make a serious, long lasting, positive impact.
His extensive career in facilitation has taken Michael around the globe, to some of the world's most prominent boardrooms. He has worked in over 25 foreign destinations, including speaking engagements and facilitated sessions in Moscow, Beijing, London, Singapore, Stockholm, Sydney, Hong Kong, Bangkok, Istanbul, Geneva, Hamburg, Helsinki, Milan, Saudi Arabia, Vienna, and Warsaw.
His facilitation experience ranges from facilitating 120 government ministers, private sector leaders, and community change agents in Jamaica in the creation of their country's strategic plan to facilitating the strategic planning process for a corporation with 9 diverse business units to identify opportunities for investment and critical internal barriers to success and much more.
Over time and with perseverance Michael has become one of the top facilitators in the world. In 2016 he was inducted into the International Facilitation Hall of Fame by the International Association of Facilitators.
Michael has now taken the leap and is using his world-class facilitation skills to create highly engaging and impactful presentations as he shares with audiences worldwide what he knows. Michael's executive level facilitation skills means that your event will be highly engaging and highly impactful and will benefit from having one of the top motivational speakers that has a wealth of knowledge and experience and a proven track record in a wide range of industries including: healthcare, automotive, banking, technology, retail, government, non-profit and more.
In addition to serving hundreds with his empowering leadership keynote speaking engagements, Michael has also had the opportunity to write the following six books about his successful facilitation methods and strategies:
The Secrets of Facilitation
The Eight Core Practices of a Facilitative Leader
The Executive Guide to Facilitating Strategy
The Secrets to Masterful Meetings
CLICK: The Virtual Meetings Book
Buying Styles
4. Build And Motivate Your C-level Executives With A Leadership Keynote Speaker That Will Refresh Your Company's Vision And Drive
With a professional career built across continents Michael brings his refreshing take on building success in business. Speaking from his experience as a global corporate facilitator, Michael is advantaged in imparting the qualities that will make your team and organization run much stronger, smoother, and profitably.
Not only does he possess the leadership pedigree and calibre to equip your audiences skilfully but his unique and engaging leadership speaking approach will grasp your audience's attention and hold it to the very last word and beyond, making a strong positive impact that will create a domino effect on the entire organization.
With an ever increasing number of invitations and engagements under his belt, Michael has taken up the challenge of inspiring and transforming organizations across America and beyond with his impactful take on leadership, strategy, facilitation, meetings, communication and being a trusted advisor.
In doesn't matter what type of industry, how the management structure works, or other variables, when there's stagnancy, low motivation and other dysfunctional patterns of operation in organizations, there's almost always a costly trickle down effect.
More and more businesses are attuned to the need to address company culture and values and having Michael The Facilitator as your leadership speaker can greatly uplift not only your perspective but your productivity.
Cut through the corporate culture and be engaged, intrigued and revived by having one of the best motivational speakers create an empowering experience that will leave a long lasting positive impact.
5. Join The Hundreds Of Invigorated Audiences Who Have Been IMPACTED By Michael The Facilitator's Compelling Delivery
If you hire a corporate motivational speaker who does not go the extra mile and reach out, connect and provide your organization with practical tools and strategies, you have not only just wasted your money, but also your time (plus each and every one of your employees' time). Which is a costly mistake that could have been avoided altogether with the right speaker!
This is why it's imperative to have the right business speaker, a speaker that knows how to connect with the audience while impacting them at the same time.
So what makes Michael the best motivational speaker?
Perhaps it is the decades of listening, or years of developing the fine nuances of appropriate facilitation at the most critical times that makes Michael your ideal choice for a keynote leadership speaker that will enrich your audience and equip them for greater productivity and success.
Perhaps the fact that Michael is a skilled communicator who does not only rely solely on emotion but seeks to impart what really makes a great leader. Michael's expertise in facilitation disciplines such as strategic planning, conference facilitation, focus group chairing and conflict resolution is shared with effervescent delivery that will lade your audience with strong take-home messages.
With Michael you are working with a skilled motivational keynote speaker who literally steps into the audience and gets everyone involved!
Michael The Facilitator really sets the standards very high with his exceptional facilitation and strong communication skills. One article is simply not enough to convey everything that makes Michael the best motivational speaker time and time again. You simply have to experience Michael's impactful leadership speaking style for yourself to really know what we are talking about here.
So if you want to make Michael The Facilitator a part of an authentic growth experience for your company, organization or institution today, take the next step to possibly have Michael come out to inspire and skill up your company for the next level by clicking the button below to fill out the form today:
Afterwords, we will get back to you with all the details you need to know, make sure we are the right fit, etc. and if all works out, we'll then get a date set to have the breakthrough event from Michael the Facilitator a soon to be a reality for you, for your company, your employees, and the world.
Looking forward to speaking more about this with you today!
Click Here to Schedule Your Free Consultation Call Now
A different point of view from one of the top leadership motivational speakers with an entrepreneur's heart, determination and right skill set to drive serious positive change can go a very long way...
What Others Have Said
"Michael Wilkinson is hands down the most talented and effective facilitator with whom I have ever worked or seen. He combines his proven facilitation techniques and approaches with a keen strategic and business sense to consistently produce performance-based results."
Brian Gallagher, CEO, United Way Worldwide
"Michael is not only one of the smartest people I know–he is one of the very best facilitators I have ever seen in action. Michael's life's work, the art and science of facilitation, has set a whole new standard for a domain that has traditionally suffered from a lack of definition and disconcerting range of quality. The curriculum, services and training programs he has built with his firm are the best in the industry. Finally, his energy, know-how and generous spirit contribute to the ultimate professionalism he brings to all he does."
Ann Herrmann-Nehdi, Chief Thought Leader and Chair of the Board Herrmann, International, The HBDI Company