We Have to STOP Meeting Like This! Strategies for Transforming the Way Your Organization Meets
Comments are closed

We Have to STOP Meeting Like This! Strategies for Transforming the Way Your Organization Meets Comments are closed
Overview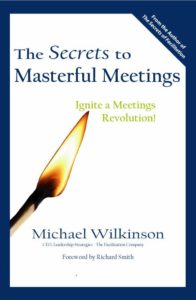 For many, meetings are viewed as a dreaded evil to be avoided at all costs; for little gets accomplished, much of the discussion is unfocused and unproductive; a lot of time is wasted. And yet, for some managers 50-75% of their workday is spent in meetings. This workshop is designed to significantly raise the bar on meeting quality by providing a complete framework and specific techniques for addressing the key barriers to successful meetings.
Description
This workshop provides specific strategies for eliminating unnecessary meetings, making the ones that are held more productive, and developing a roadmap for transforming meetings across your team, department, or enterprise.
The workshop will answer these ten questions and more.
What is the three-question test for eliminating unnecessary meetings?
What are the two most important things to know in preparing for a meeting? (Hint: it's neither the agenda nor the participants!)
What are the three key characteristics that EVERY person attending a working meeting should have?
What are four strategies for getting a meeting started ON TIME?
What are the three most important things to state at the beginning of a meeting BEFORE reviewing the agenda?
What are four simple strategies for keeping the meeting focused and on track?
What are the three reasons people disagree and how do you address each one?
What are the best strategies for handling a drop-out, a nay-sayer, a whisperer, a dominator, and nine other common dysfunctions?
What are the four most important things to do in closing a meeting?
How can meeting rights be used to transform the way your organization meets?
Durations
Keynote
Half-day
Full day