The Secrets of Facilitation
Overview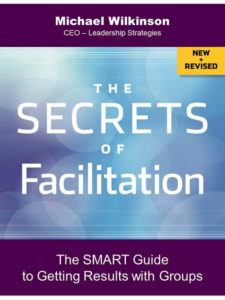 Fasten your seatbelts and get ready for a ride! In this session, the dynamic author of The Secrets of Facilitation will guide you through a preview of this comprehensive methodology for facilitating groups, task forces, strategy teams and other sessions that require groups to come together to achieve a common end.
"I had no idea how much I didn't know," is the comment from one 10-year facilitation veteran after experiencing the workshop. Whether you are a long-time facilitator/trainer or new to facilitating teams and groups, you will walk away with tips you can use tomorrow.
Description
In this fast-paced, power-packed session, you will learn:
The five Ps of preparation
The four keys for grabbing people's hearts and souls at the start
Two important strategies for keeping the group focused and on track
The surprising secret to phrasing questions so you get a bonfire of responses
The four-step formula for resolving dysfunction
The three reasons people disagree and strategies for resolving each
The secret to using Level 3 energy to transform a group
Warning – the pace of this session is not for the faint of heart. If you are ready to see and learn practical facilitation techniques from a facilitation master, come join the ride!
Durations
Keynote
Half-day
Full day
Multi-day